9 Types of Tiles and Where To Install Them In Your House
A quick guide on choosing the right tiles and how to use them to upgrade your home aesthetics.
Here's a home improvement hack every house owner should know: Tiling your floors and walls can result in the most dramatic transformation, while also enhancing visual appeal and value. Tiles can be used to great effect but what type should you go for and where to install them? We highlight 9 of the most popular ones and tell you where they fit best in your home.
#1 Ceramic
With their hard, solid surface that do not hold on to dirt or dust, ceramic tiles are easy to clean. They're also affordable, durable, and versatile, making them a highly popular choice for all kinds of home improvement projects. Another plus point is they are resistant to water and so are perfect for high moisture areas.
Where to use them: Glazed ceramic tiles also protect against stains and damage, making them ideal for the kitchen and bathroom.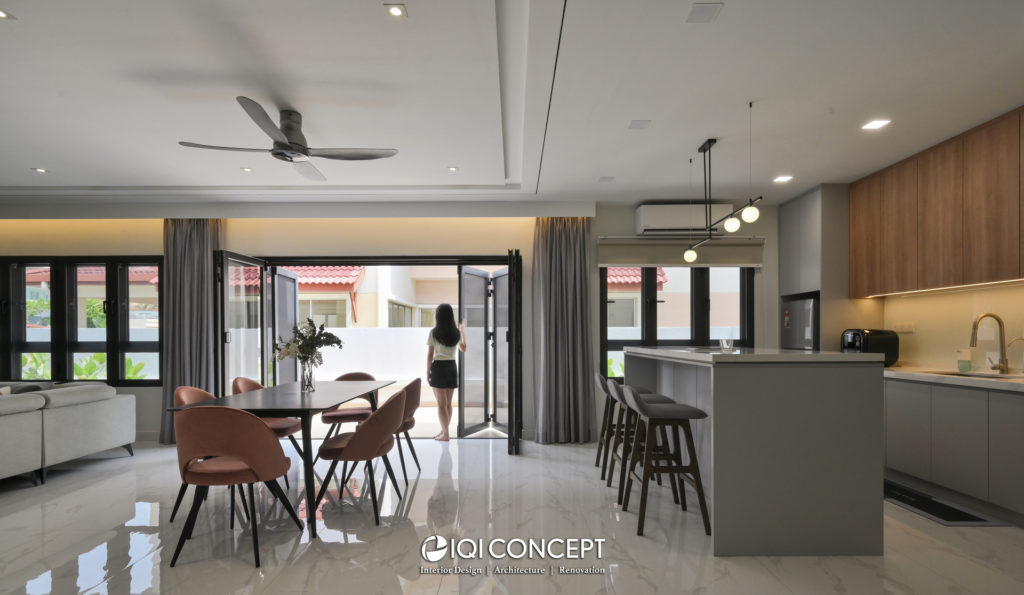 #2 Porcelain
A type of clay ceramic that's baked at higher temperatures, porcelain tiles come in a variety of colours and patterns. They can be glazed or etched, and take on textures that resemble hardwood, marble, or bricks. They're also very durable – even harder than ceramic and most natural stone tiles – and are best for areas where there are possibilities for spills and falling objects.
Where to use them: Porcelain tiles are excellent at withstanding high foot traffic, so they should be your first choice for the living room.
#3 Glass
These tiles are the most resistant to stains but are also the most vulnerable to cracking or chipping so you should only install them on walls and never on floors. You also want to avoid high-traffic areas such as the living room and kitchen – although it's not a bad idea to use them for backsplash in the latter.
Where to use them: With their clean, minimalistic aesthetic, glass tiles are great as a design feature to add accents to table tops, mirrors, and desks. If you have a pool at home, that's perfect for showing off the elegance of glass tiles.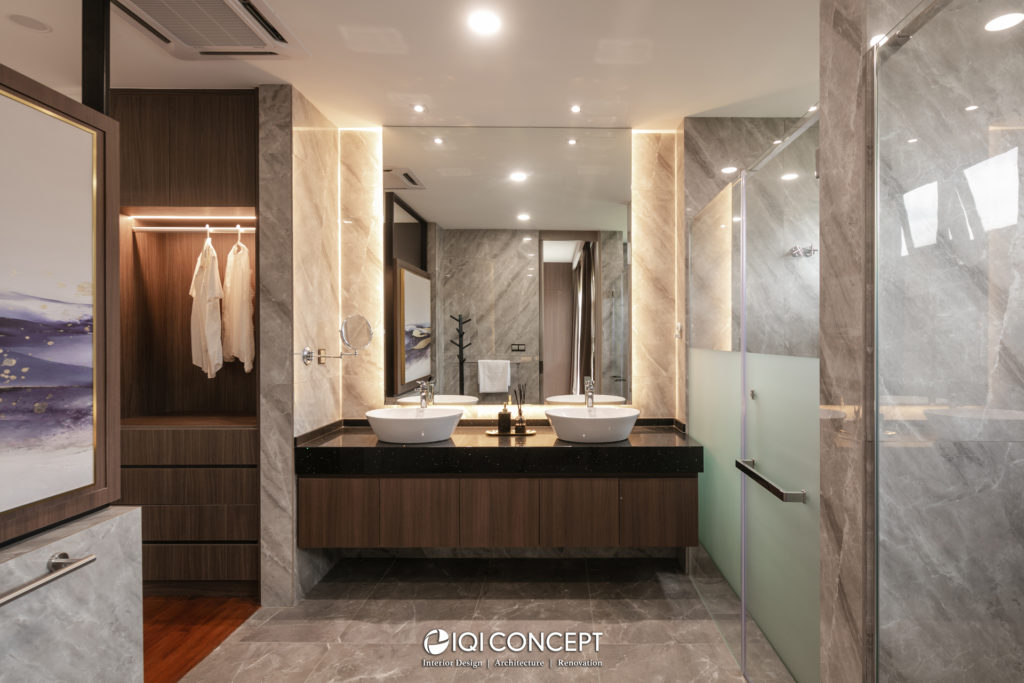 #4 Marble
Elegant and expensive looking (and expensive too!), marble tiles lend a strong visual impact to the space where they're installed. That's because of their rich, bold tones and details that create depth and contrasts. They do require a fair bit of work to stay pristine, however, and are prone to scratches and stains.
Where to use them: Because of their high price point and high-maintenance characteristic, marble tiles are best used in smaller applications such as for shower floors, columns, and kitchen backsplashes.
#5 Granite
A natural rock, granite typically sports unique flecks that are engrained within the tiles, giving them an attractive appearance. They're harder than marble and less prone to chips and cracks, besides being waterproof (to an extent) and do not absorb water or moisture easily.
Where to use them: Granite tiles are most practical for the kitchen, where they make for beautiful countertops and dazzling floors that are highly durable.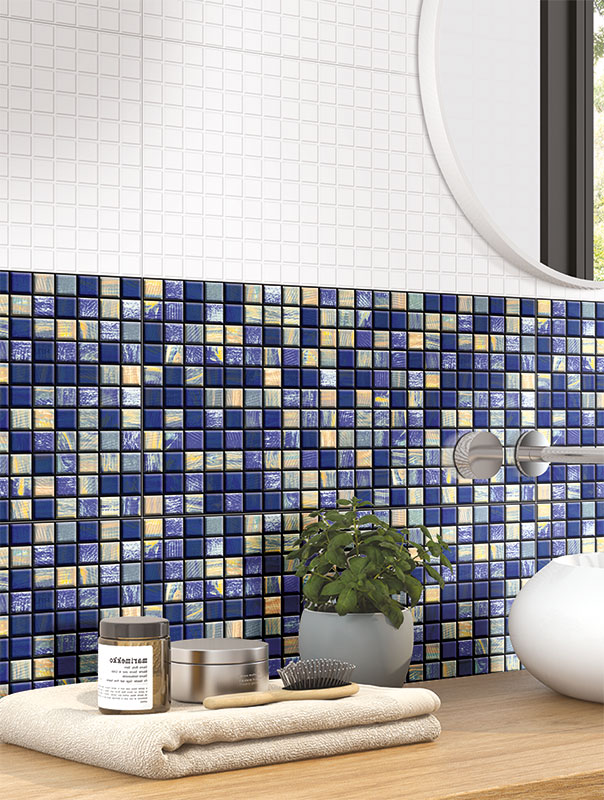 #6 Mosaic
With their plethora of shapes, sizes, materials, colours, and styles, you can really have a lot of fun with mosaic tiles. They can be used to form patterns to make a style statement and express your artistic side. Be careful though, as it's quite easy to go overboard with them. They're best used sparingly as accents.
Where to use them: Kitchen backsplashes, bathroom vanity areas, and laundry rooms make the best spots for bringing out the fun, creative elements of mosaic tiles.
#7 Limestone
Carved out of natural stone, limestone tiles are soft – they can be easily cut and shaped – but durable and have a rustic appeal that comes through in natural tones. As the rock is porous, limestone tiles must be sealed to prevent cracking.
Where to use them: Their organic aesthetics are best highlighted in outdoor applications such as on the porch, patio, and walking paths.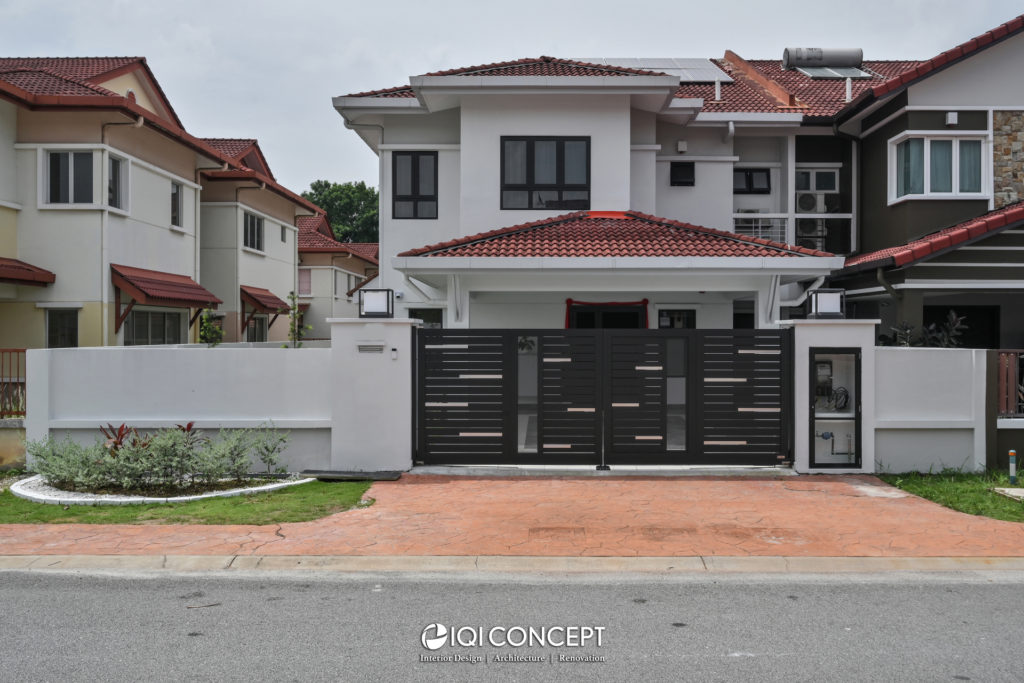 #8 Travertine
This is a type of limestone that is formed in natural springs, which gives them a soft, natural palette and a variety of textures: Brushed (matte), honed (between matte and glossy), polished (shiny and glossy), and tumbled (aged). Like other natural stones, they are susceptible to water and stains, and must be sealed for protection and durability.
Where to use them: As they can withstand a high level of traffic (given proper and thorough sealing), travertine tiles can be used in many areas of the home, both indoors and outdoors. Pool decks, courtyards, driveways, and walking paths would all benefit from using this tile.
#9 Quarry
Usually rough to the touch and reddish in tone – though they also come in shades of brown, grey, and tan – quarry tiles are made from ground minerals and are water resistant.
Where to use them: Quarry tiles are durable, hide stains well, and offer a high degree of slip resistance, which is why they are popularly used in commercial kitchens. For homes, they're great for areas where the floor often gets wet, such as wet kitchens, bathrooms, and pool decks.
---
Follow our socials to get the latest updates!
Looking to transform your home? Click here to get a free consultation now!