Making the Most of Your Laundry Room: The Do's and Don'ts
How to maximise space and other tips for your laundry room.
A laundry room is not a common feature of the typical Malaysian household. We usually fit the washing machine and dryer in the wet kitchen; ironing is done wherever it's convenient to plug in the iron; clean laundry takes up space on the sofa or bed until they are folded.
Why not have a dedicated laundry room where you can have all the necessary appliances and accessories in one place? With thoughtful planning and simple design hacks, you can have a space where form meets function while avoiding unsightly clutter such as laundry piles all over your living areas. Here are some tips to help you make the most of a laundry room.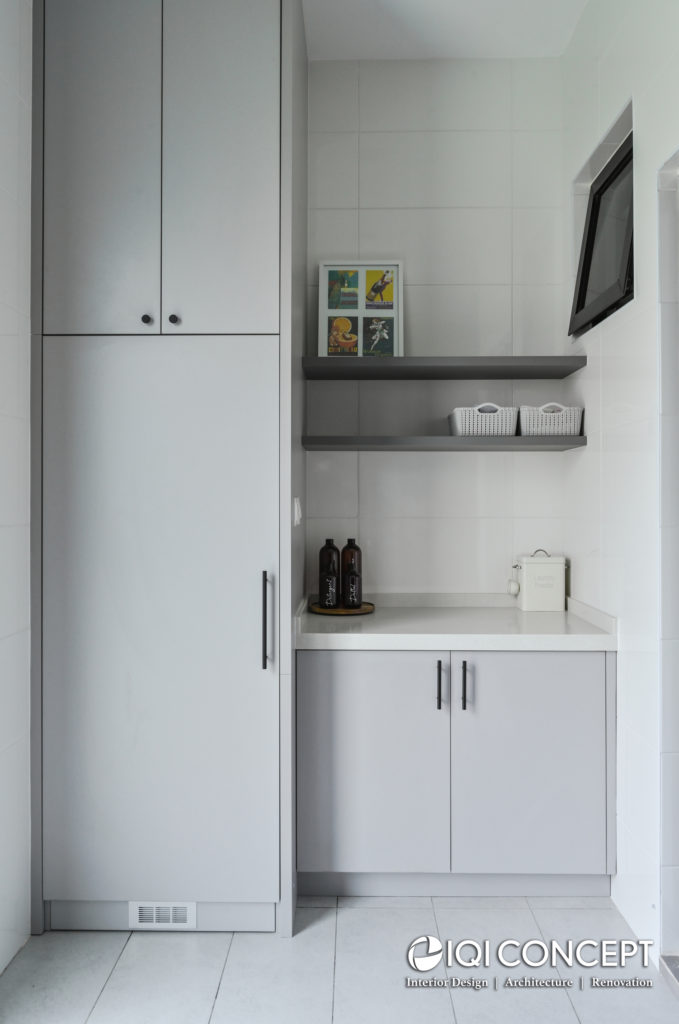 THE DO'S
DO: Pick a practical location
Ideally, it should be next to a bathroom or the kitchen where there is ready plumbing points. You also want to keep it a distance from the bedrooms so you won't be disturbed by the noise from the washing machine or dryer. If you can't spare a whole room, consider creating a separate area using partitions.
DO: Make a list of what you need and want
Start by listing all the things you need to fit within the space. Get the exact measurements of anything that will occupy the floor such as the washing machine, dryer, pipes, tubes, and furniture pieces. You should also decide between a front and top loading washing machine, as that will greatly determine how much vertical space you need or are left with.
DO: Think vertically to make full use of the space
Cabinets above the washer and dryer, wall shelving, and pedestal drawers are some of the design hacks you can implement to maximise the vertical space in the laundry room. Use them to store items such as detergent, clothes pegs, and iron while keeping the room neat and tidy. Foldaway panels or tables are great too and can double up as an ironing board or work surfaces for chores like folding clothes.
DO: Decide how you will use the room
Think about the whole process, from putting laundry into the washer all the way to the ironing or folding. The layout should align with your workflow. An ergonomic design will help make the most of the space and enable you can move around with ease.
DO: Choose a durable flooring
Like the bathroom, laundry rooms are subject to high levels of moisture and humidity, so think about how to protect the floor. Look for flooring that is resistant to moisture, stains, and impact, and is also easy to clean. Luxury vinyl tile (LVT), sheet vinyl, stone, ceramic tile, and laminate flooring are among the popular and recommended options.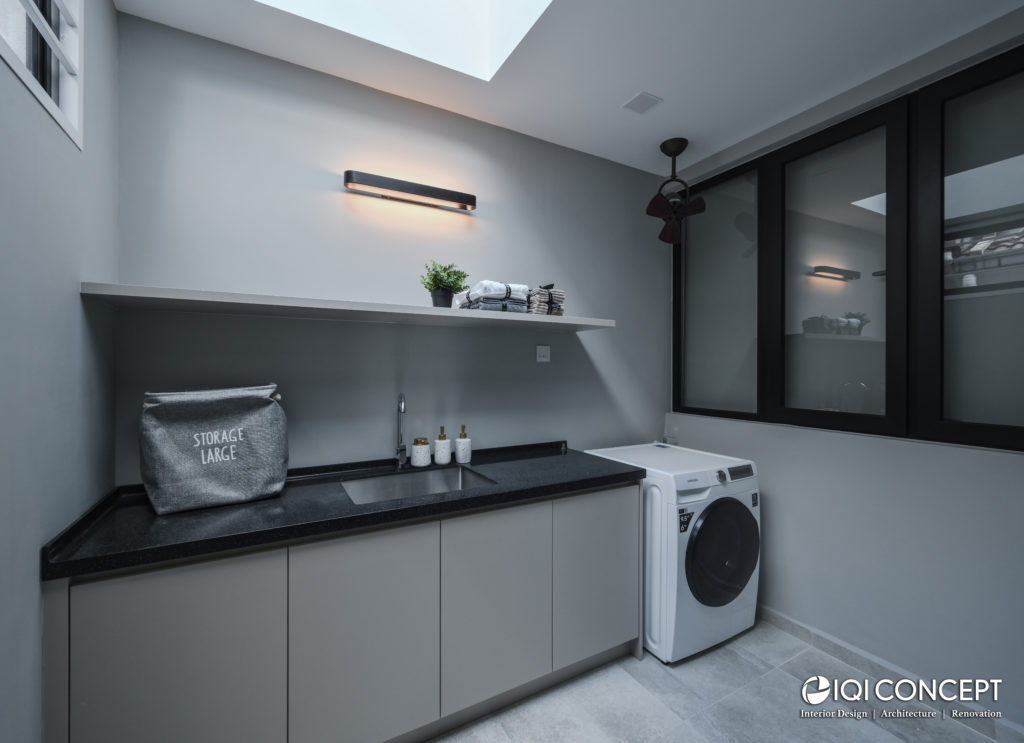 THE DONT'S
DON'T: Leave it bare
Just because it's not a space that you would show to guests doesn't mean you shouldn't make it look nice. Laundry is something you have to do regularly, which means that you will be spending a fair amount of time in there. Make it as aesthetically pleasing as you would the rest of your home. Maybe then, laundry will feel less of a chore!
DON'T: Forget about the lighting
Having the right lighting is important to optimise your comfort whenever you use the room. A combination of natural light and well-placed overhead lighting works best so whether you're in there during the day or at night, there is ample illumination.
DON'T: Forget to build in a sink and install drying racks
These features will come in handy in the laundry room, especially when you need to handwash delicate fabrics and intimate apparel. Think how convenient it is if you can wash and dry them within the same area. Consider a wall-mounted folding rack or retractable clothesline for space economy.
DON'T: Forget to decorate
Wall decals, potted plants, framed art or photos are simple decor touches that you can add to the laundry room to brighten it up. Make it an inviting space you won't mind spending time in!
DON'T: Limit its usage
It may be built for laundry but think of it as a general utility area. It has water supply, wash area, work surface, and storage, which makes it a very useful space for other household needs or chores as well. For example, you can also keep your home cleaning tools there. If you have pets, the sink can double up as their bath.
Done right and with consideration for all the practicalities, the laundry room can be one of the most efficient and functional spaces in your house.
---
Follow our socials to get the latest updates!
Looking to transform your home? Click here to get a free consultation now!